Plumbing Apprenticeship Area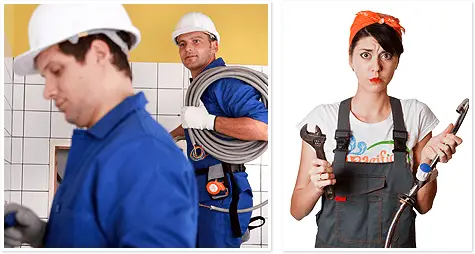 For years now there has been a serious shortage in qualified tradesmen and the trend is likely to continue. What does that mean to you? It means that it is an excellent time to enter into the plumbing apprenticeship program. With the shortage of plumbers, a skilled plumber who does quality work can often make $50 or more an hour.
About plumbing apprenticeship: Apprenticeship programs vary from place to place but they all have some common traits; such as, a mix of schooling and practical work experience lasting usually 4 years. Apprentices must be employed in the plumbing field under the supervision of a licensed plumber and may be required to return to school for further training on a yearly basis. Here is an example of a 4 year program from Okanagan college. Keep in mind that each program will be different.
About Plumbing Apprenticeship
Level 1
Mathematics
Science
Safety
Tools
Pipes, Valves and Fittings
Rigging
Cutting, Soldering and Brazing
Drafting and Blueprint Reading
Level 2
Hot Water Heating Systems
Piping Drawings and Specifications
Rough-in and Finishing
Drainage and Venting Systems
Compressed Air and Medical Gas
Leveling Instruments and Tools
Level 3
Drainage and Venting Systems
Potable Water Systems
Rural Water Systems
Piping Drawings and Specifications
Gasfitting
Level 4
Install and Light Gas Appliances
Hot Water Heating Systems
Gasfitting
Electrical CCTS and Gas Controls
Rural Sewage
Drainage and Venting Systems
Plumbing Red Seal Exam
The plumbing red seal or inter-provincial exam is based on the National Occupational Analysis, which lays out the trade related knowledge and duties you are expected to know. Each of the blocks; A-G, are further divided into tasks and sub tasks. Click on the link below to see the tasks related to each category.
| | |
| --- | --- |
| Blocks | % of total exam |
| A - COMMON OCCUPATIONAL SKILLS | 12 |
| B - DRAINAGE, WASTE, VENTS AND PRIVATE SEWAGE DISPOSAL SYSTEMS | 28 |
| C - WATER SERVICE AND DISTRIBUTION, PLUMBING FIXTURES AND APPLIANCES | 22 |
| D - HYDRONIC HEATING/COOLING SYSTEMS | 13 |
| E - SPECIALIZED PIPING SYSTEMS | 10 |
| F - PUMPS | 6 |
| G - MAINTENANCE AND REPAIRS | 9 |
National Occupational Analysis of the plumbing trade
Plumbing Exam Study Questions
Preparing to write the Inter-provincial plumbing exam? Test your knowledge on this Red Seal Practice Exam that I created. Many of the questions have been on recent Red Seal plumbing exams.
Click here for practice exams and questions
Plumbing Math - Formulas And Tables
Math unfortunately is part of being a plumber or any other skilled trade for that matter. Although we don't tend to use many of these formulas in our daily plumbing chores, you better know them if your planning to write your plumbing exam.
Read More
Sizing Potable Water Lines (2010 NPC)
In order to provide a consistent supply of water to every fixture in a plumbing system the water lines must be sized according to a number of factors. Gone are the days of piping in a home using only 1/2" copper, people today expect their water pressure to be consistent, regardless of the number of fixtures being used.
Read More