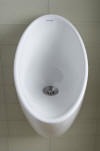 Homeowners seldom consider a urinal as a fixture they would like to find in a home but the benefits are many if space permits. All men are familiar with traditional commercial style urinals but there are also aesthetically designed residential models. A waterless urinal will surely be an interesting addition to any washroom and the household females will be glad the toilet seat will be in the down position.
Whether or not water conservation is high on your priorities, a waterless urinal may be a wise decision for a number of factors:
Water and sewage savings
Sanitary touchless design
Low maintenance
Splash eliminating design
Easy, low cost installation
How It Works

A waterless urinal sounds kind of odd doesn't it? The fact of the matter is the science is quite simple. The waterless urinal is designed to direct the fluids into the trap where it passes through a layer of lighter liquid; called the sealing liquid, that remains on top of the urine and forms an odor barrier. The trap is specially designed to slow the liquids and prevent the sealing liquid from being washed down the drain.
Installing A Waterless Urinal
Since there are no water requirements, installation only requires a standard 2″ drain connection. Depending on the fixture and manufacturer you choose, a detailed set of installation instructions for that particular model will be included. As with normal wall hung urinals much of the same rough in preparation applies:
Install wooden backer boards where the urinal hangers will go.
Drain can be roughed in to the standard 18″ height or the 11″ height for disabled persons.
Urinal spud is mounted flush with the wall.
Backsplash and adjacent walls must be impervious to water(urine).
Maintenance And Cleaning
Well, if there is a down side to a waterless urinal, this would be it for me. The maintenance schedule can be a little on the needy side for these fixtures. To prevent the liquid sealant from becoming rancid and the pipe walls from mineralizing, routine flushing of the unit will be required every couple of weeks along with daily sanitary cleaning of the urinal. After flushing, a new layer of sealant will be required. Special products that may be difficult or expensive; to replace and clean the waterless urinal, are required and can be purchased through the wholesaler or supplier of your model.