Danze faucets have become a popular fixture as of late, mostly because of their competitive pricing. Because of the numerous models of Danze faucets produced, this article will describe the common methods of repairing leaking and limited water supply issues that may affect your Danze faucet.
Danze Faucet Repair Parts
When repair parts are required, most will be covered by Danze's warranty, but if possible try and find the model name of your faucet before contacting their technical support. It is not the end of the world however if you can't remember the name of your faucet, just take a digital photo and email it to them, they should then be able send you the required parts and installation guides to repair your faucet good as new.
Tools And Materials You May Require
Adjustable Wrench
Screwdrivers
Allen keys
New cartridge
Removing A Single Lever Danze Cartridge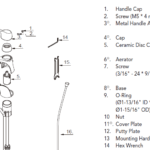 Click to expand picture
Turn off the water under your sink and open the faucet to relieve pressure.
Plug your sink to prevent dropping any parts down the drain.
Twist the handle to one side and you should be able to see a small cover plate that can be carefully removed with a knife edge or screwdriver.
Behind the plate will be a small screw that can be removed with a 4mm allen key.
Lift off the handle and remove the cap under it to expose the cartridge. Some models may require more steps.
Once the cartridge is out, inspect the body and bottom surface for visible wear as well as the cartridge well in the faucet body.
If the cartridge is damaged contact Danze for a free replacement
Two Handle Danze Faucet Repair
Lever type handles
Knob type handles
Shut off the water to the faucet, both hot and cold.
Plug the sink to prevent dropping any parts down the drain.
Knob type faucets will have a screw hidden beneath a cover plate that can be removed carefully with a knife or flat tipped screwdriver.
Lever type handles may not have any screws holding them onto the cartridge stem and can be pulled straight up. This may take a little wiggling and force.
Once your handles are removed you can the remove the lock nut that secures the cartridge using a wrench. If your faucet is leaking under the handle the lock nut was likely not tight enough.
Remove and inspect the cartridge for damage, wear and debris. If the cartridge looks to be damaged contact Danze customer support for a replacement part.
Poor Water Flow Rate
A faucet's aerator is what normally produces a consistent stream of water but may over time become fowled with particles and need to be cleaned or replaced.
Remove the aerator carefully with a pair of pliers covered by a rag to protect the finish.
To clean the aerator run water through it backwards and then soak in vinegar or CLR for a couple hours.
Replace with another aerator the same size if necessary.