Tankless water heaters must be installed by qualified tradesmen, but that doesn't mean you can't be well informed. Below, I've outlined the key points for an "On Demand" Tankless Water Heating System.
Tankless Water Heater Facts
Also called: Instantaneous Hot Water Heater and On-Demand Hot Water Heater.
Tankless water heaters are far more efficient than the more common storage tank water heaters, primarily because they only heat water when there is a demand for it; you open your bathroom taps for hotwater, and the water is instantly heated to the proper temperature (120-140 degrees F).
Tankless water heaters can save you 20-30 percent on energy or fuel consumption, by not having to maintain a large volume of water at a constant temperature.
A tankless water heater uses electricity or gas to heat water that travels through small tubing coil(s) inside the unit, and are rated in gallons per minute.
Types of Tankless Water Heaters
Single Point Tankless Water Heater
Used primarily for under sink applications, to provide instant hot water to one or two sinks.
Thermostatic Tankless Water Heater
Uses as a booster for long pipe runs providing instant how water to a fixture or area. Also used in radiant in floor heating applications and as a back up for solar heating.
Whole House Tankless Water Heater
Used as the primary hot water source for a residence, sized according to the number of fixtures being served, and can be installed in series to provide limitless amounts of hot water.
Electric Tankless Water Heaters
Depending on the required amount of hot water needed, an electric tankless water heater can have rather large power requirements. Although single point water heaters are usually designed to run off of a 110V circuit and come with an electric cord pre-installed, the larger whole house tankless heaters will require a separate circuit and anywhere from 40 – 100 amps. This large electrical draw may require an upgrade to your electric panel to accommodate a whole house tankless water heater.
Gas Tankless Water Heaters
Gas Fired Tankless Water Heaters are typically capable of higher flow rates and therefore capable of supplying more fixtures with hot water. If your home has access to natural gas or propane, a gas fired tankless heater may be the right choice for your needs, but they will also need special consideration on the placement in the home, to accommodate the gas installation and venting. Gas tankless systems are typically more expensive to buy, install and maintain, but depending on your local power rates may still be cheaper to run.
The following diagram illustrates the basic operation of a Gas Tankless Water Heater.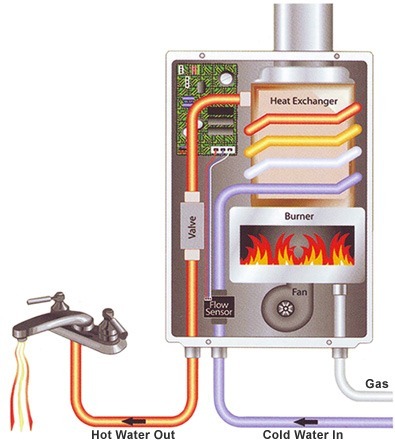 Gas Tankless Water Heaters
Tankless hot water systems must be installed by qualified tradesmen and will require various permits such as: plumbing, electrical and gas. Below are various diagrams showing the electrical, plumbing and venting connections and installation requirements (local codes may require additional fittings and valves).
Tankless Water Heater Manufacturers
GAS ELECTRIC
Rheem
Stiebel-Eltron
Noritz
Hubbell
Takagi Eemax
Bosch
Bosch
Bradford White
Chronomite
Paloma
Tankless